Sonic Unleashed XBOX 360 ROM Free Download (v1.0)
Sonic Unleashed ROM Free Download in direct link. Sonic Unleashed was released on ?.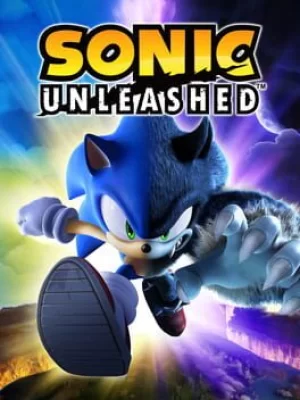 About The Game
Sonic Unleashed is an action-adventure game that follows the beloved Sonic the Hedgehog as he embarks on a quest to save the world from an evil force. The game features both traditional side-scrolling platforming levels and 3D action stages. Sonic must use his speed and agility to traverse each level, collecting rings and defeating enemies along the way. In addition, Sonic can transform into a Werehog form at night, allowing him to use powerful melee attacks to defeat enemies and progress through the game. The story follows Sonic as he attempts to restore the planet's shattered pieces after a mysterious force shatters it into seven pieces. As Sonic travels across the world, he meets allies who help him in his quest by providing him with new abilities and items. Along his journey, Sonic must battle against Dr. Eggman's robotic minions as well as a mysterious dark force known as Dark Gaia. The game features several different types of levels, including traditional side-scrolling platforming levels, 3D action stages, and unique boss battles. Each level is filled with obstacles that require quick reflexes and precise timing in order to complete them successfully. In addition to these levels, there are also mini-games that can be played in between levels for extra rewards. Sonic Unleashed is an exciting game that combines classic platforming gameplay with modern 3D graphics and sound design. Players of all ages will enjoy playing through this classic adventure as they help Sonic save the world from Dark Gaia's evil forces.
| | |
| --- | --- |
| Players | ? |
| Year | ? |
| Serial # | SE-2066 |
| Version | 1.0 |
How to Download Sonic Unleashed ROM for XBOX 360
Click the Download button below and you will be redirected to UploadHaven. Wait 15 seconds and click on the "Free Download" button. Now let the download begin and wait for it to finish. You can use Pro Download for faster speeds but it is not required. We recommend using Free Download Manager to speed up your downloads instead of downloading through your browser.
Once Sonic Unleashed ROM is done downloading, right click the .zip file and click on "Extract to Sonic Unleashed" (To do this you must have 7-Zip, which you can get here). Double click inside the Sonic Unleashed ROM folder and run load your rom iso into your emulator of choice. To find the right emulators, visit this page.
Have fun and play! Support us by sharing this site with your friends and family.
Sonic Unleashed ROM for XBOX 360 Free Download
Click the download button below to start Sonic Unleashed ROM Free Download with direct link. It is the full version of the game.

Sonic Unleashed (v1.0)
Size: 6.59 GB

Screenshots