Assassin's Creed III PS3 ROM Free Download (v2.0)
Assassin's Creed III ROM Free Download in direct link. Assassin's Creed III was released on 2012.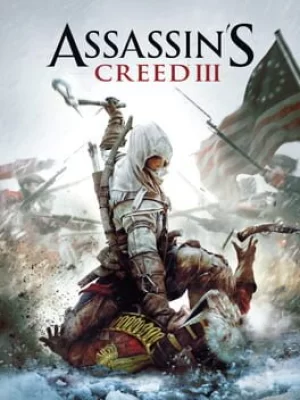 About The Game
Assassin's Creed III is an action-adventure game developed by Ubisoft Montreal and published by Ubisoft. It is the fifth major installment in the Assassin's Creed series, and a direct sequel to Assassin's Creed II. The game was released worldwide for PlayStation 3 and Xbox 360 in October 2012, and for Microsoft Windows in November 2012. The game follows the story of Ratonhnhaké:ton, also known as Connor, a half-English, half-Native American assassin during the American Revolutionary War. Players take on the role of Connor as he fights against both the Templars and British forces in order to protect his people and secure freedom for his nation. The game features an open world environment with a variety of activities such as hunting, crafting items, collecting resources, engaging in naval combat, and completing side missions. The game also features a new combat system that allows players to use weapons such as swords, tomahawks, pistols, muskets, bows and arrows. Assassin's Creed III has received generally positive reviews from critics who praised its visuals, narrative structure and gameplay mechanics. It was also nominated for several awards including Best Action/Adventure Game at the Spike Video Game Awards 2012. The game has sold over 12 million copies worldwide since its release making it one of the best selling games of all time. Overall Assassin's Creed III is an exciting action-adventure game with an engaging story set during the American Revolution. Players take on the role of Connor as he fights against both British forces and Templar agents to protect his people.
| | |
| --- | --- |
| Players | 1 |
| Year | 2012 |
| Serial # | BLUS-30991 |
| Version | 2.0 |
How to Download Assassin's Creed III ROM for PS3
Click the Download button below and you will be redirected to UploadHaven. Wait 15 seconds and click on the "Free Download" button. Now let the download begin and wait for it to finish. You can use Pro Download for faster speeds but it is not required. We recommend using Free Download Manager to speed up your downloads instead of downloading through your browser.
Once Assassin's Creed III ROM is done downloading, right click the .zip file and click on "Extract to Assassin's Creed III" (To do this you must have 7-Zip, which you can get here). Double click inside the Assassin's Creed III ROM folder and run load your rom iso into your emulator of choice. To find the right emulators, visit this page.
Have fun and play! Support us by sharing this site with your friends and family.
Assassin's Creed III ROM for PS3 Free Download
Click the download button below to start Assassin's Creed III ROM Free Download with direct link. It is the full version of the game.
Screenshots