Samba de Amigo Dreamcast ROM Free Download (v1.001)
Samba de Amigo ROM Free Download in direct link. Samba de Amigo was released on 2000.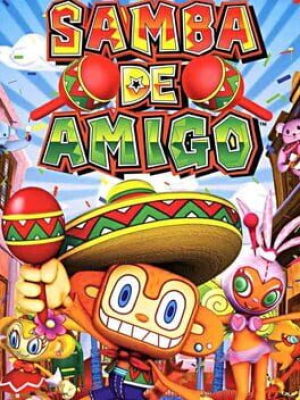 About The Game
Samba de Amigo is a rhythm game developed by Sonic Team and published by Sega. It was released in arcades in 1999 and ported to the Dreamcast in 2000. The game is based on the Latin American dance style of samba and features a variety of samba-style music. Players use maracas to hit targets that appear on the screen in time with the music. The main goal of Samba de Amigo is to score as many points as possible by hitting targets that appear on the screen in time with the music. The game features a variety of songs, from traditional samba tunes to more modern pop songs. Players can also choose from a variety of characters, such as monkeys, cats, and robots, to represent them while playing. The game includes several modes of play: Arcade Mode, where players must complete a set number of stages; Versus Mode, where two players compete against each other; and Training Mode, which allows players to practice their skills without any pressure. There are also several mini-games available for players to enjoy. Samba de Amigo is an enjoyable rhythm game that offers an exciting challenge for both casual and hardcore gamers alike. The vibrant visuals, catchy music, and fun characters make it an enjoyable experience for all ages. With its simple controls and wide selection of songs, Samba de Amigo is sure to keep you entertained for hours!
| | |
| --- | --- |
| Players | 2 Simultaneous |
| Year | 2000 |
| Serial # | 51092 |
| Version | 1.001 |
How to Download Samba de Amigo ROM for Dreamcast
Click the Download button below and you will be redirected to UploadHaven. Wait 15 seconds and click on the "Free Download" button. Now let the download begin and wait for it to finish. You can use Pro Download for faster speeds but it is not required. We recommend using Free Download Manager to speed up your downloads instead of downloading through your browser.
Once Samba de Amigo ROM is done downloading, right click the .zip file and click on "Extract to Samba de Amigo" (To do this you must have 7-Zip, which you can get here). Double click inside the Samba de Amigo ROM folder and run load your rom iso into your emulator of choice. To find the right emulators, visit this page.
Have fun and play! Support us by sharing this site with your friends and family.
Samba de Amigo ROM for Dreamcast Free Download
Click the download button below to start Samba de Amigo ROM Free Download with direct link. It is the full version of the game.

Samba de Amigo (v1.001)
Size: 1.06 GB

Screenshots