The Simpsons Game XBOX 360 ROM Free Download (v1.0)
The Simpsons Game ROM Free Download in direct link. The Simpsons Game was released on 2007.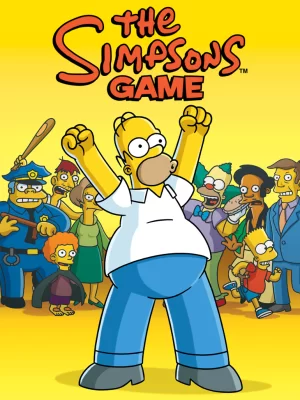 About The Game
The Simpsons Game is an action-adventure video game based on the popular animated television series The Simpsons. It was developed by Electronic Arts and released for the PlayStation 3, Xbox 360, Wii, PlayStation 2 and PSP in 2007. The game follows the Simpson family as they attempt to save their hometown of Springfield from various disasters. Players take control of Homer, Marge, Bart, and Lisa as they explore their hometown and fight enemies using various weapons and abilities. The game features a variety of missions that involve rescuing citizens from danger, collecting items to progress through levels, and solving puzzles. Players can also collect coins to purchase upgrades for their characters. Additionally, the game includes a two-player cooperative mode where players can team up to complete missions together. The Simpsons Game features a unique art style that combines 3D graphics with classic cartoon visuals from the show. The game also features voice acting from the original cast of The Simpsons as well as original music composed specifically for the game. Additionally, players can unlock bonus content such as extra levels and costumes by completing certain tasks in-game. Overall, The Simpsons Game is an entertaining action-adventure title that captures the spirit of its source material perfectly. With its unique art style, humorous dialogue and challenging gameplay, it's sure to please fans of both The Simpsons and video games alike.
| | |
| --- | --- |
| Players | ? |
| Year | 2007 |
| Serial # | EA-2057 |
| Version | 1.0 |
How to Download The Simpsons Game ROM for XBOX 360
Click the Download button below and you will be redirected to UploadHaven. Wait 15 seconds and click on the "Free Download" button. Now let the download begin and wait for it to finish. You can use Pro Download for faster speeds but it is not required. We recommend using Free Download Manager to speed up your downloads instead of downloading through your browser.
Once The Simpsons Game ROM is done downloading, right click the .zip file and click on "Extract to The Simpsons Game" (To do this you must have 7-Zip, which you can get here). Double click inside the The Simpsons Game ROM folder and run load your rom iso into your emulator of choice. To find the right emulators, visit this page.
Have fun and play! Support us by sharing this site with your friends and family.
The Simpsons Game ROM for XBOX 360 Free Download
Click the download button below to start The Simpsons Game ROM Free Download with direct link. It is the full version of the game.

The Simpsons Game (v1.0)
Size: 6.63 GB

Screenshots